EVENTS
CONFERENCES, CONTESTS, AND SPEAKING ENGAGEMENTS



June 2012

Giant Step launches ComicReply™ beta product at the Ontario Pavilion, 2012 Annecy International Animation Film Market (Mifa) conference. The Ontario Exports trade mision to Annecy is also supported by the OMDC Export Fund. >>



February 22, 2012

Giant Step participates in a FilmOntario marketing event in LA: Toronto/Ontario on Location in LA - "Ontario's Screen-Based Industries Roll Out The Red Carpet In Los Angeles"




Feb 14, 2012

Gil Katz presents the Off Centre Music Salon and Giant Step at a Social Media Week panel hosted by Canada's National Ballet School: "Social Media: Successful Audience/Community Engagement in Arts & Culture" >>




February 1, 2012

Gil Katz participates as a judge in the 18th Communicator Awards for the International Academy of Visual Arts (IAVA)



February 7-10, 2012

Giant Step attends the 2012 Kidscreen Summit in New York with the Youth Media Alliance >>



November 9, 2011

Giant Step participates in the C100 AccelerateTO event >>



September 18, 2011

Memorial Matters and FuneralConnect.ca booth at the Ontario Association of Cemetery and Funeral Professionals (OACFP) conference and trade show.




September 8-14, 2011

Giant Step participates in an Ontario Exports trade mission to the IBC + PICNIC conferences in Amsterdam, Netherlands >>




August 31, 2011

Gil Katz participates as a judge in the 2011 Davey Awards for the International Academy of Visual Arts (IAVA)



March 30, 2011

Gil Katz participates as a judge in the 17th Annual Communicator Awards for the International Academy of Visual Arts (IAVA)



January 24-26, 2011

Giant Step presents as a finalist in the 2011 Digital Launch Pad competition in Miami, a new partnership of nextMEDIA and the US National Association of Television Program Executives (NATPE) >>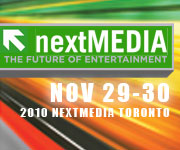 November 30, 2010

Gil Katz from Giant Step presents at the 2010 nextMEDIA conference. Giant Step selected as a finalist in the Digital Hot List for gogoscrazybones.com in the 'Hot Online Property' category >>



October 27, 2010

Giant Step presents at the 11th international View Conference for computer graphics in Italy >>



October 24-29, 2010

Giant Step delegates in the Ontario Multimedia Mission to France and Italy >>



June, 2010

Giant Step plans and delivers a social media campaign for ideaCity2010, marketing a Live WebCast from the 3-day conference.



August, 2010

Gil Katz participates as a judge in the 2010 W3 Awards, honoring creative excellence on the web, and recognizing the creative and marketing professionals behind award winning sites, videos and marketing programs. Simply put, the W³ is the first major web competition to be accessible to the biggest agencies, the smallest firms, and everyone in between. Small firms are as likely to win as Fortune 500 companies and international agencies. The W³ is sanctioned and judged by the International Academy of the Visual Arts, an invitation-only body consisting of top-tier professionals from a "Who's Who" of acclaimed media, interactive, advertising, and marketing firms. IAVA members include executives from organizations such as Conde Nast, Coach, Disney, The Ellen Degeneres Show, Estee Lauder, Fry Hammond Barr, HBO, Monster.com, MTV, Polo Ralph Lauren, Sotheby's Institute of Art, Victoria's Secret, Wired, Yahoo! and many others.



April 24, 2010

Giant Step participates in an industry panel on 'The Future of Media in Canada' at Centennial College, a part of Fast Forward, a day of workshops at The Centre for Creative Communications


March 10, 2010

Gil Katz shares Giant Step's Social Media expertise and experience in a panel discussion at the Digital Strategies Conference, a part of Canadian Music Week at the Fairmont Royal York Hotel in Toronto. The panel topic - "Social Media - Opportunities to Increase Revenue and Brand Loyalty by Engaging in Online Communities: This panel of industry experts will discuss the future of social media, with a focus on consumer trends, marketing programs and content development. As a brand, marketer or content owner, how can social media improve your current marketing and customer acquisition initiatives? What is the opportunity for brands and marketers to target and reach potential consumers through social networks? How are social networks evolving to incorporate advertising programs and licensed content while addressing privacy and piracy concerns? This panel of experts will get under the hood and provide answers to the questions people are asking about the future of social media."
March 8, 2010

Gil Katz participates as a judge in the 2010 ACE Regional Exposition in Toronto. ACE is a national charitable organization that is teaching and igniting young Canadians to create brighter futures for themselves and their communities. Working in partnership with business and higher education, ACE delivers experience-based programming that allows university and college students to move beyond the traditional path of post-secondary education. These students are challenged to address economic, social and environmental issues in their own entrepreneurial ventures and in their communities. ACE currently delivers two programs on over 50 university and college campuses across Canada with the involvement of over 1,700 student leaders and student entrepreneurs.

February 10-12, 2010

Giant Step attended the KidScreen Summit in New York City, as part of a delegation led by Interactive Ontario, with the support of Telefilm Canada and the Ontario Media Development Corporation (OMDC).


August 7-9, 2007

Giant Step participated in a Siggraph exhibition with the University of Toronto's FL_UI_D Lab (

San Diego, Califronia)






September 30, 2004

Eyal Katz speaks at the Direct Marketing News (DMN) 'Getting Up to Speed: The Online Marketing Conference' introducing best practices for marketing through web media.

February 25, 2004

Giant Step's print advertising for Connors and Co. Travel outsells all other sponsors at the annual Vinifera Women in Capital Markets (WCM) Awards Gala silent auction fundraiser.

August 23, 2003

Giant Step sponsors the annual 'Inventing the Future' conference and Young Inventors International (YII) at the Centre for Innovation Law and Policy. YII is a non-profit organization that aims to educate innovators under the age of 35 and connect them with resources to commercialize their inventions. Giant Step installed YII's Online Community Forums, helping connect between innovators and commercialization experts.

May 4, 2002

Gil Katz, co-founder of Giant Step, represented the University of Toronto Entrepreneur Club (UTEC) at the National ACE SIFE Exposition. UTEC's participation included organizing and promoting "Intimate and Interactive" events at the UofT Career Centre featuring leading Canadian entrepreneurs including executives from Second Cup, Speakers Spotlight, Enterprise Rent-a-Car, The Helicopter Company, and Canadian Youth Business Foundation.